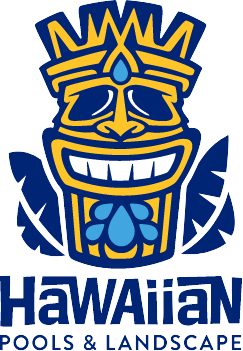 This formal rectangle features a beautiful square spa with 3 spillover features. It was very important to center the spa on the pool as the focal point and a terminus to a view from the house and outdoor livng space. The formality of this pool is further accentuated by full length shallow end stairs.
As with many projects, material choices are of great importance. Featured here is a precast bullnose concrete coping. The individual coping pieces are four feet long creating a very substantial appeal. Custom corner pieces eliminate mitred mortar joints in the corners.
The main dwelling had a massive roof, so careful attention to drainage between the house and the pool was extremely critical to preserve the integrity of both the pool and the dwelling.
This project is fully automated with a smartphone interface that controls all pool and spa functions. This is a standard feature on a Hawaiian Pool and Spa combination.