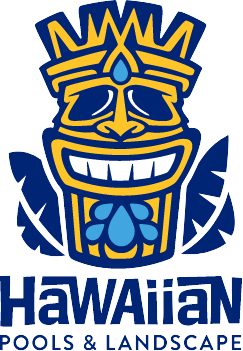 LOCATION: EADS, TN. – POOL TYPE: GUNITE
This project involved removing an existing vinyl liner pool and replacing it with a spacious freeform gunite lagoon. This project has a pass through grotto with multiple waterfalls and a spillover spa. We also included a custom slide wrapped with Oklahoma flagstone. The sun ledges feature led bubblers and Ledge Lounger chaises that create an inviting entry into the lagoon.
As with many projects we build, we used exclusively three inch plumbing on this pool and water feature arrangement to give the customer numerous options for water flow. Enlarged plumbing also enhances hydraulic efficiency leading to savings in operating cost. On a project of this size, the energy savings will quickly pay for the initial three inch plumbing investment. The water will filter better and the pumps will last longer due to less resistance to flow through a larger pipe.
"I was so overjoyed and happy to see Hawaiian Pools take my existing 15 year old vinyl liner pool and turn it into an amazing gunite oasis my wife and I could have never imagined. I was blown away at the efficiency and friendliness of their crews and the overall quality work they supplied."
​LUXURIOUS LAGOON, EADS, TN